whats the deal?
You get a new website installed and setup for free, using an inexpensive Wordpress template ($30-$45).
1. Choose and purchase your website template from Themeforest.
2. Provide me access to you server and theme files.
3. I will install Wordpress and configure the website with your theme and up to 2 email accounts.*
4. I will install the common plugins needed (SEO, spam protection & backups).
5. You will receive full instruction on how to add your pages, content and images - it's super easy!
who's eligible?
Companies, businesses & organizations who fall into these categories:
green, eco-friendly companies & organizations
sustainable companies & organizationss
organic & health food companies
non-profits
renewable energy
permaculture and local farming companies & organizations
education organizations
water, wildlife and environmental organizations
Contact me to find out if your company is eligible. You probably are.
whats the catch?
None really.
You just need to spend $30-$45 bucks on a website theme, and have a free or cheep website hosting account.
Karma.
If you and your company are doing good for people or the planet I want to help you get a good web presence started. It is one of the ways for me to give back to the community, the earth and the people.
Future Relationships.
My hope is that we will be able to start a relationship for you future web development needs. If not, I am just happy to help you.
New Client Base.
I am shifting my client base to only small, local business and green companies.
green web development portfolio
Rudis Organic Bakery

Wild Organics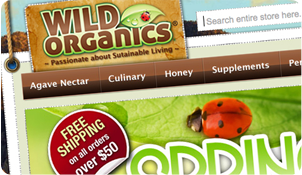 *This does not include setting up pages, menus and moving or uploading content and images. The software your website will be installed on, Wordpress, is a content managment system - allowing you full control to update all aspects of your website. You will be provided direction/instructions on the basic use of Wordpress. Most clients find Wordpress so easy to use they often do not need instruction :)